Horizontal Bright Beer Tanks
Product Detail
Product Tags
Bright beer tank feature
Adopted the scientific technology to keep pressure, cooling. There is also a cooling jacket to low the temperature.Realized lowering the temperature rapidly, lowering the part.Perfect cleaning condition, scientific design of the tank and head. Ensure the CO₂ supply, low temperature of the beer, cleaning of the tank. Ensure the tank is connected and  shares with the CIP  system, ice water, temperature control.
Horizontal lager tank feature
The horizontal orientation of the tanks is practical in breweries with insufficient height for the location of vertical cylindrical beer maturation tanks. Horizontal cylindrical beer maturation tanks can be stacked to maximize their number if the room space is limited. The main disadvantage of horizontally oriented tanks is, in particular, poor access to hidden space between of the tanks, where is accumulated dirt, which may be the source of unwanted infections of yeast and beer. We recommend the horizontal tanks only for breweries with a really low ceiling height in the beer cellar room.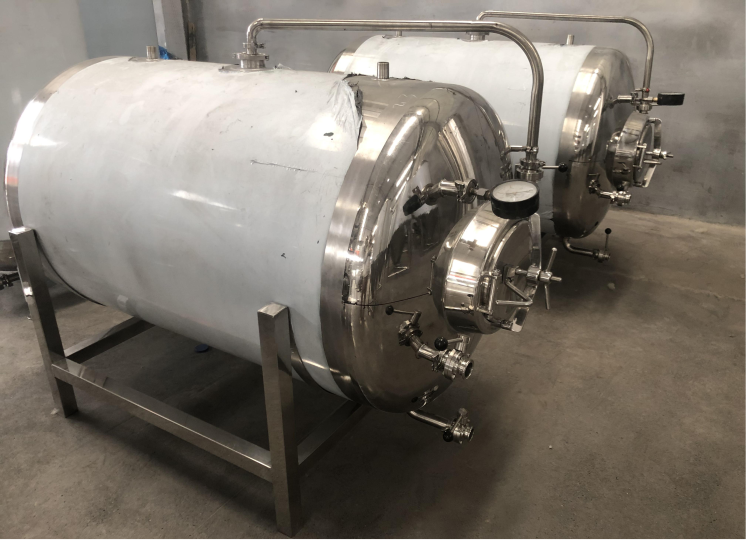 Separate 500L Horizontal BBT with single layer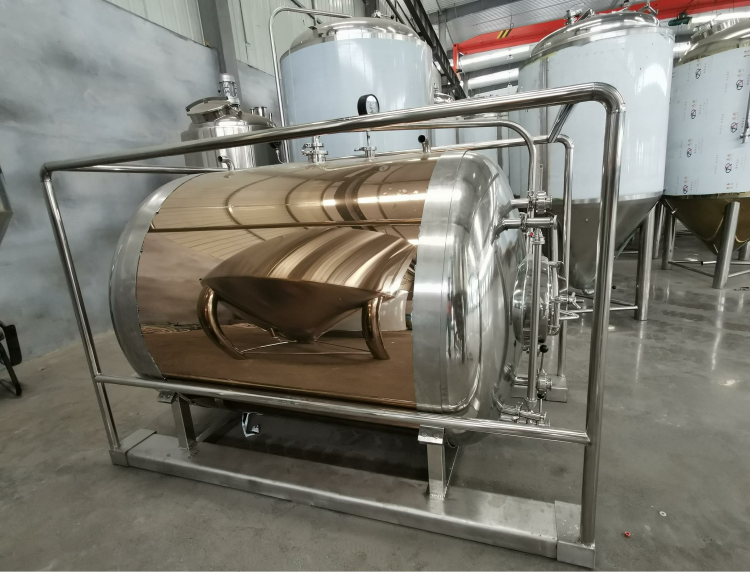 Separate 500L Horizontal BBT coated in Rose Gold Color
Main technical specifications for Bright beer tank
1. Material Inner (SUS304) TH=3.0mm; Outer(SUS304) TH=2.0mm
2. Surface: Finish 2B – cold-rolled, annealed
3.Inner surface treatment: welds grinded to Ra 0.4μm (attached 360 degree Omni cleaning ball)
4.Mirror surface finish inside
5.Insulation: Polyurethane-thickness: 80 mm
6.Vessel Pressure:1.5 bar / 3.0 bar
7. Glycol Jacket: Dimpled plate on cone and side
8. Stringent tank leakage test by water and pressured gas
9. Stringent Jacket leakage test by water and pressured gas
10. Sanitary manhole with pressured door
11. TC connected CIP arm with 360° coverage spraying ball
12.Full sanitary metallic sealed sampling valve
13.Hydraulic shock pressure gauge on CIP arm
14.Tri-clamp discharge arm with butterfly valve
15.Thermowell for high accuracy temperature sensor
16.4pcs completely SUS304 heavy duty legs with leveling pad and legs support
17.Complete valves, fittings and all parts
18.Carbonation stone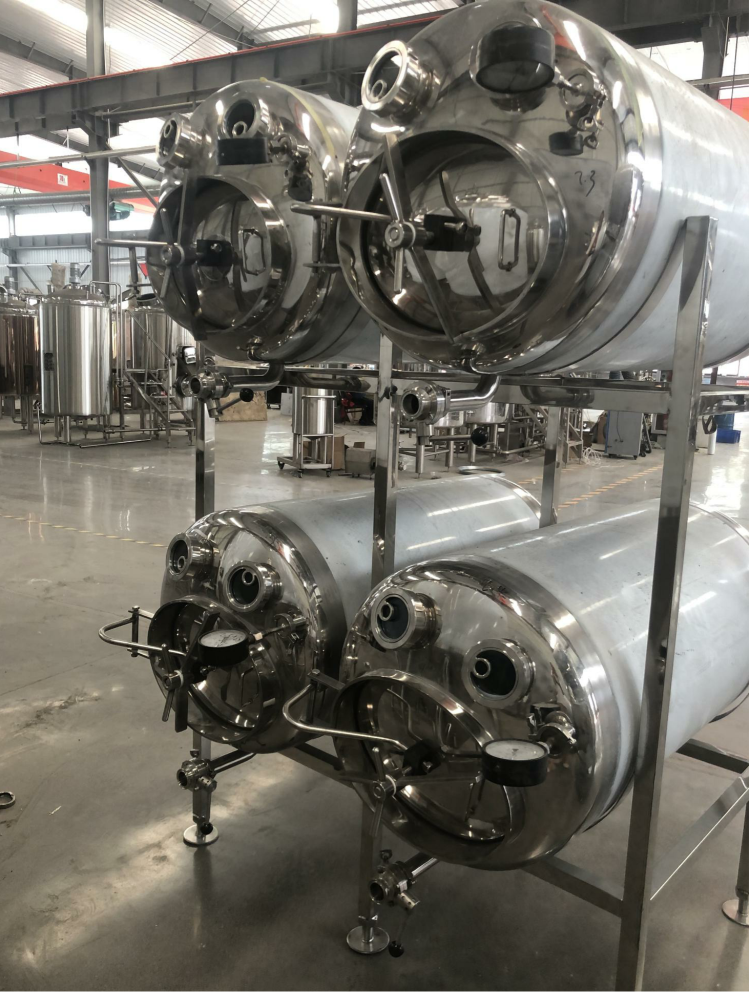 Combined Horizontal BBT in single layer
Soft film packaging during the FCL shipment,
or standard wooden package during LCL shipment.
We also adopt the special requirements if you have, like the iron frame package or pallet.
---
Previous:
Four-Vessel Brewhouse System
---
Write your message here and send it to us
Products categories